FRIENDS OF VIA
Is a 501 (c) 3 organization in Pittsburgh, Pennsylvania which supports Via Foundation, an independent Czech foundation that is committed to community and philanthropy development in the Czech Republic. Friends of Via gives American donors an easy tax-deductible way to donate to Via Foundation and other Czech non-profit organizations.
Friends of Via supports Via Foundation in "Building the Future, One Community at a Time."
For the past 20 years, Via Foundation has been supporting people and organizations which are changing Czech communities. Each year Via Foundation provides grants and learning opportunities to approximately 200 projects in Czech communities – like Dolní Podluží, where residents transformed a public space into a vibrant community place, or Rychnov nad Kněžnou, where teenagers put on a benefit event to raise money for young people with disabilities.
We are currently holding a fundraising drive for Via's Living Communities program. If you haven't contributed already, we hope you'll join us in supporting people improving Czech communities! You can donate here.
RECENT NEWS
The Czech folk music ensemble, Muzička is on it's way once again to a U.S. tour. This time to the West Coast and California!   Muzička will perform around the West Coast, and their tour will culminate with the  St. Wenceslaus Festival in the San Francisco Bay area, where they will be artist-in-residence. This three-day festival is organized by the Orinda/Tabor Sister City Foundation located in Orinda, California, September 29 – October 1, 2017.  More information can be found at: http://www.orindaczechfestival.com/ Muzička is actively raising funds for this return to the US in fall 2017. If Czech folk music has a special place in your heart and you'd like to get involved by making a tax-deductible contribution, please contact Carol Hochman at carol.hochman@friendsofvia.org.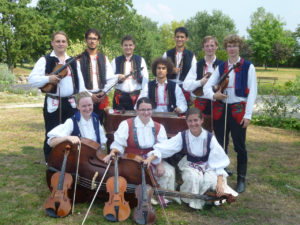 Click here for a very inspiring article from the Pittsburgh Post-Gazette newspaper about a young philanthropist in Pittsburgh.