FRIENDS OF VIA
Is a 501 (c) 3 organization in Pittsburgh, Pennsylvania which supports Via Foundation, an independent Czech foundation that is committed to community and philanthropy development in the Czech Republic. Friends of Via gives American donors an easy tax-deductible way to donate to Via Foundation and other Czech non-profit organizations.
Friends of Via supports Via Foundation in "Building the Future, One Community at a Time."
For the past 18 years, Via Foundation has been supporting people and organizations which are changing Czech communities: people like retiree Zdenka Wasserbauerova, who encourages young people to become bone marrow donors, or a group in Cheb trying to save a local monastery. Last year, Via Foundation supported over 250 projects and awarded over $600,000 in grants.
RECENT NEWS
The Czech folk music ensemble, Muzička is on it's way once again to a U.S. tour. This time to the West Coast and California!   Muzička will perform around the West Coast, and their tour will culminate with the  St. Wenceslaus Festival in the San Francisco Bay area, where they will be artist-in-residence. This three-day festival is organized by the Orinda/Tabor Sister City Foundation located in Orinda, California, September 29 – October 1, 2017.  More information can be found at: http://www.orindaczechfestival.com/ Muzička is actively raising funds for this return to the US in fall 2017. If Czech folk music has a special place in your heart and you'd like to get involved by making a tax-deductible contribution, please contact Carol Hochman at carol.hochman@friendsofvia.org.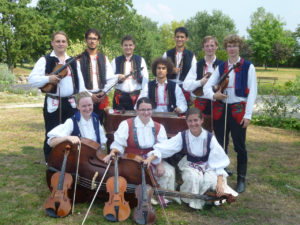 Via Foundation Living Communities projects selected for support. Read more here.
Click here for a very inspiring article from the Pittsburgh Post-Gazette newspaper about a young philanthropist in Pittsburgh.
2016 Via Bona Philanthropy Awards: The year's most powerful stories of giving.